Mitt Romney scores points in presidential debate, but will it help him?
Mitt Romney appeared more at ease and in control than did President Obama at Wednesday's presidential debate in Denver, with experts saying it might have done him 'some good.'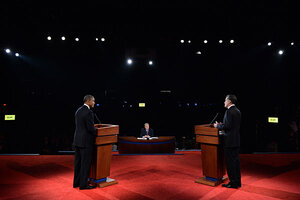 Michael Reynolds/AP
Mitt Romney came into the first presidential debate on the attack, aggressively pushing Obama on job creation, the economy, and healthcare, and making his best effort to reverse the trends of the polls and perceptions that he cares more about upper-income Americans than the middle class.
It was a surprisingly strong performance from the Republican presidential candidate, who many expected would be at a disadvantage compared with President Obama.
"On style, Mitt Romney came out the very aggressive debater and had a lot of punch in his remarks," says Dotty Lynch, a public communications professor at American University in Washington. "On substance, both of them made some points,… but I think Romney may have done himself some good."
Obama, in contrast, forcefully combatted Romney's proposals – and questioned the lack of details in his plans – but refrained from the attacks many pundits had expected, on Romney's personal wealth and tax rates, his tenure at Bain Capital, or his comments seeming to dismiss the 47 percent of Americans who don't pay federal income taxes.
The debate, held at the University of Denver in the battleground state of Colorado, was the first of three between the two presidential candidates and has gotten intense attention because the stakes are so large. The race has been tightening in the past week, and both candidates came to the stage Wednesday night needing both to convince the small number of undecided voters left, particularly in battleground states, and to energize their supporters to go to the polls.
---