Why Florida's count matters, even though it won't affect the outcome
The reason Florida is so closely watched – and so frequently embroiled in election disputes – is that the state has a big, diverse population that marks a fault line in American politics.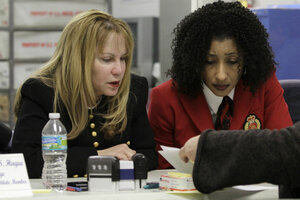 Alan Diaz/AP
They are still counting ballots in Florida. Thankfully, none of them involve hanging chads.
Although the presidential race was called in favor of President Obama late Tuesday night, election officials in the Sunshine State are continuing to count the votes.
By mid-Wednesday, Obama and Republican Challenger Mitt Romney were separated by just over 47,000 votes.
Obama's vote total was listed at 4,145,549 against Romney's 4,098,072.
That is 49.29 percent for Romney versus 49.86 percent for Obama – just outside the 0.5 percent trigger for an automatic recount.
Of course, no recount would be necessary since the president amassed far in excess of the 270 Electoral College votes he needed to win reelection.
The counting in Florida does not threaten to upend any of Tuesday's historic developments. A belated win in Florida would be 29 electoral votes of political gravy for Obama, or something of a consolation prize for Mr. Romney.
But the final count in Florida is not entirely irrelevant.
The skinny victory verifies what many pundits have long insisted – Florida resides at the edge of a national electoral fault line. It is a big and growing state with an ethnically diverse population and a political landscape that presents heaping portions of both promise and peril for would-be national leaders.
That's why even though the election is over many politicos will be following the final tally of votes here.
Some analysts expected – or feared – that Florida might emerge as a post-election legal battleground as it did following the disputed 2000 election. Teams of lawyers were assembled and poised to begin litigating, if necessary.
---