Carly Fiorina widens lead over Barbara Boxer: All about jobs?
The California Senate race could hinge on perceptions of how Carly Fiorina and Barbara Boxer will approach the economy and job creation.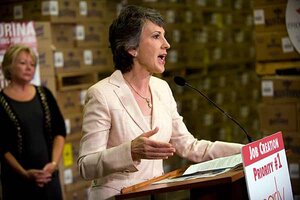 Paul Kitagaki Jr./The Sacramento Bee/AP
Sen. Barbara Boxer is losing ground to challenger Carly Fiorina in the race for California's Senate seat, which is considered key to both political parties.
Fiorina showed a five-point lead (47 percent to 42 percent) in a SurveyUSA poll released Aug. 12. The poll surveyed 602 likely California voters between Aug. 9 and Aug. 11 and had a margin of error of 4.1 percent.
"The 2010 California Senate race is very important nationally," says Carleton College political scientist Steven Schier. "If the GOP is to gain control of the Senate, they must win the California Senate race."
Because economic concerns lead the list of voter issues, Senator Boxer and Ms. Fiorina have been parrying over their plans to create jobs in the struggling state. Fiorina has accused Boxer of supporting "job killing" taxes and regulations by allowing Bush tax cuts to expire. And she has said recent small business legislation co-sponsored by Boxer "has done nothing to make it easier for small businesses or family owned businesses."
---