Florida's October surprise: Clinton urged Meek to exit Senate race
Democrat Kendrick Meek says he'll stay in the three-way Florida Senate race, but the Clinton-Meek saga is a PR nightmare for the party.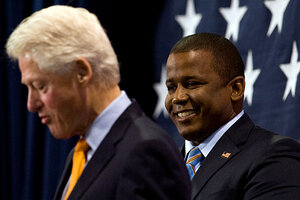 Steve Nesius/AP/File
Surprise! Former President Clinton tried to get Kendrick Meek, the Democratic Senate nominee in Florida, to drop out of his three-way race last week.
The idea was to clear the way to allow the Republican-turned-independent Gov. Charlie Crist to go head-to-head against Republican Marco Rubio, who leads in polls. Presumably, if the gambit proved successful, a Senator Crist would caucus with the Democrats, giving them extra insurance against losing control of the Senate.
A Quinnipiac poll released Thursday showed Congressman Meek with only 15 percent, Governor Crist at 35 percent, and former state House Speaker Rubio at 42 percent. Crist would need only half of the Meek vote to top Rubio.
Since the story broke Thursday night, Meek has acknowledged the conversation with the former president, though he says it's not true that he agreed to drop out (twice) and then changed his mind, as Politico reported. Crist has also said the story is true, and that he had been informed by "people very close to President Clinton," as Crist put it on MSNBC.
Mr. Clinton has responded to the story with his trademark artful wording.
"[Meek] is trying to decide what to do, and I talked to him and I told him that – we went through everything, we talked about it a couple times – I said in the end you know you have to do what you thought was right,'' Clinton told CNN Thursday night. "I think in terms of what I said to him and what he said to me, since he's my friend and he's the candidate and he wanted us to talk as we always have, I have to let him say what whatever he wants to say about our conversation. It would be wrong for me to discuss it.''
---
Follow Stories Like This
Get the Monitor stories you care about delivered to your inbox.