'Welfare-voter' spat in Massachusetts part of larger political duel
Republican Sen. Scott Brown says Massachusetts' decision to try to expand voter registration among welfare recipients is a blatant political maneuver. But it is part of a national trend.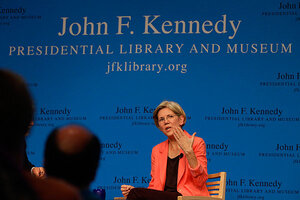 Stephan Savoia/AP/File
A controversy over voter registration in Massachusetts is serving up a reminder: Election 2012 revolves not just around a messaging war but also around efforts by both parties to affect voter turnout.
Republican Sen. Scott Brown has complained that, in an unusual move, state officials have used taxpayer money to mail voter-registration forms to welfare recipients. The move is such a blatant effort to boost Democratic support, he argues, that his Senate-race opponent should pick up the mass-mailing tab.
Officials for the state, politically dominated by Democrats, say the mailing to welfare recipients was a logical response to legal pressure. The move is part of an interim settlement with plaintiffs who argue that the state has failed to comply with a 1993 federal law designed to ensure better voting access for Americans – including the opportunity to register while renewing a driver's license or signing up for welfare.
A lot of potential votes are at stake.
The mailing went out to nearly half a million Massachusetts residents, which the Brown campaign characterizes as about one-third the number of votes that will end up winning the Senate race between Senator Brown and his rival, Elizabeth Warren. Currently the race is shaping up as one of the tightest and most closely watched in the nationwide battle for control of the US Senate.
Although Brown has cast the state's actions as shocking, and although Democrats have professed their own shock that he would see anything to criticize, political analysts say the tiff follows a well-worn pattern.
---