Elizabeth Warren and Cherokee heritage: what is known about allegations
Sen. Scott Brown is bringing up the allegation that Senate-race rival Elizabeth Warren sought to benefit as a law professor by claiming Cherokee heritage. Several questions remain unanswered.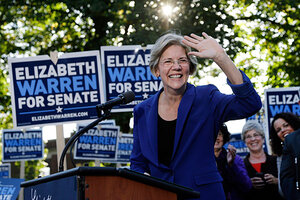 Elise Amendola/AP
A new campaign ad by Sen. Scott Brown (R) of Massachusetts calls attention to the way that Senate-race rival Elizabeth Warren, during her academic career, listed herself as a racial minority.
The ad, titled "Who knows?" focuses on whether Ms. Warren sought to parlay unproven claims to native American heritage into career advancement as a law professor.
The two candidates are locked in a tight race. Senator Brown began pressing the issue months ago, after the matter emerged in local news reports. But this week's ad is Brown's first on the issue.
Brown's advertisement shows news footage of reporters talking about Warren's claim to Cherokee ancestry in her Oklahoma family. Then a reporter asks Warren: "Is there anything else that's going to come out about you that we don't already know?" The Democrat laughs in response. "You know, I don't think so, but who knows?"
The ad follows a public debate last week, in which Brown raised the issue face to face with Warren, arguing that serving in the Senate requires passing a test of "character." He said she clearly is not native American – an apparent reference both to her white skin and to a lack of evidence to prove native American ties.
Warren has responded to Brown's ad with her own 30-second video, speaking directly to the camera with this message: "I never asked for and never got any benefit because of my heritage."
A good many voters in the state agree with the view that she didn't benefit. Others disagree, however. And Warren's critics argue the important question is not whether she benefited, but whether career advancement was her motive.
---