Rand Paul as kingmaker in US Senate race in Montana?
Sen. Rand Paul (R) – heir to his father's libertarian political dynasty – on Sunday endorsed Republican Denny Rehberg, who is running in a tight three-man race. A GOP concern is that the Constitution Party candidate could siphon votes from Rehberg.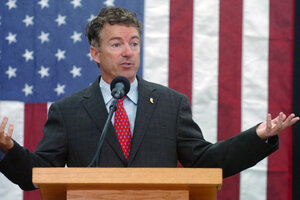 John Huff, Foster's Daily Democrat/AP
Could Sen. Rand Paul (R) of Kentucky make the difference in the squeaky-tight US Senate race in Montana?
Senator Paul, heir to the libertarian political dynasty built by his father, Ron Paul, endorsed the Republican Senate candidate in the Big Sky State, Rep. Denny Rehberg (R), on Sunday. The Ron Paul-lead Liberty PAC had previously endorsed Representative Rehberg.
"I support Denny Rehberg and encourage you to do the same, because a vote for anyone other than Denny Rehberg is a vote to keep [majority leader] Harry Reid and his liberal allies in control of the U.S. Senate," Rand Paul said in a recorded message distributed by the Rehberg campaign.
That "anyone other than" Rehberg is not just a reference to Democratic incumbent Sen. Jon Tester. It also refers to third-party candidate Dan Cox, who is carrying the libertarian banner in the election and who could siphon enough votes from Rehberg to hand the race to Senator Tester.
The libertarian party's presidential nominee, former New Mexico Gov. Gary Johnson, has endorsed Mr. Cox. Cox, who runs an online fishing supplies company, is formally running as the Constitution Party candidate.
---