Long slog to 2014 election begins for Senate's 'red state' Democrats
Three Senate Democrats from states where Obama lost in 2012 – and who are up for reelection themselves in 2014 – voted this week against their own party's fix for the 'sequester.' Will such votes hamstring Obama's legislative agenda?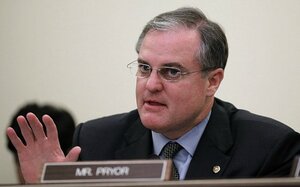 Alex Brandon/AP
The agony of the 2014 election cycle has already begun for incumbent Democrats from "red" states.
That became apparent Thursday, when three Democratic senators from conservative-leaning states – Mark Pryor of Arkansas, Kay Hagan of North Carolina, and Mary Landrieu of Louisiana – rejected their own party's fix for the budget-crimping "sequester." It included $55 billion in tax hikes on the rich alongside cuts to farm subsidies and the Pentagon.
Earlier in the week, two powerful conservative groups had pegged Senator Pryor as a top 2014 election target.
That vote was only for political show, and thus not one that could make or break President Obama's agenda. But it nonetheless signals an uncomfortable reality for red-state Democrats: Votes on the president's agenda for the current congressional session – immigration reform, higher taxes for the wealthy, firearms legislation – could put them into a difficult spot with constituents back home, a majority of whom cast their ballots for someone other than Mr. Obama last November.
---