How the tea party helped GOP find a path to Election Day successes
(Read article summary)
Victories for tea-party candidates Rand Paul, Marco Rubio, and Jim DeMint showed the impact of the nascent conservative movement on the GOP's ability to project a winning posture.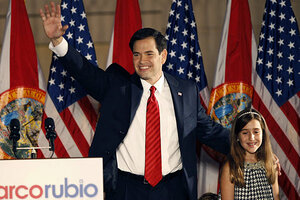 Hans Deryk/Reuters
Concerns that the nascent tea party movement would hamper a return to relevancy for Republicans are quickly giving way as Election Day results suggest that in fact, the decentralized conservative protest movement helped give the GOP a roadmap to success.
"The biggest tea party is today," said Sen. Jim DeMint, a big tea party favorite, in a victory speech in his homestate of South Carolina. On Tuesday night, Rand Paul, a Senate candidate from Kentucky, called his victory a "tea party tidal wave."
Tea party-supported Republicans Marco Rubio in Florida (US Senate), John Boozman in Arkansas (US Senate), and Nikki Haley in South Carolina (governor) also were coasting to convincing victories Tuesday, even as one of the most famous tea party candidates, Christine O'Donnell, failed in her bid in to win a Delaware Senate seat. Glen Urqhart, also a tea party candidate in Delaware, lost his bid for a House seat, as well.
---