How Newt Gingrich won over the tea party
(Read article summary)
As opponents and the Republican establishment turn on former House speaker Newt Gingrich, he's getting a lifeline of support from a constituency he has ambitiously courted: the tea party.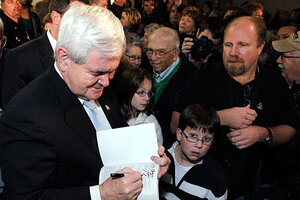 Chris Carlson/AP
Newt Gingrich topping Mitt Romney, Michele Bachmann, and even tea party champion Ron Paul in a 23,000-person tea party straw poll on Monday might seem like another headscratcher in the GOP's bewildering and manic rush to come up with a candidate to unseat President Obama.
The former House speaker tallied support from 31 percent of the tea partyers surveyed. The straw poll results came as national polls show Mr.Gingrich's support eroding. He's now in a dead heat with Mr. Romney, who has approached the tea party more cautiously.
Meanwhile, Representative Paul, sometimes called the godfather of the tea party, came in with only 3 percent of the straw poll vote. (Representative Bachmann received 28 percent, and former Massachusetts Governor Romney took 20 percent.)
Gingrich's record is long, complicated, and hardly the picture of philosophical rigor that the tea party movement seeks to employ in Washington. So, how did Gingrich win over the tea party?
Gingrich's appeal among tea partyers has its roots in a number of factors, including his early support of the movement, his scorched-earth maneuverings in the 1990s that helped guide the country toward balanced budgets and even surpluses, and the fact that he's being targeted for takedown by the same Republican establishment that the tea party has vowed to depose via electoral insurgency.
---