Another White House departure? Robert Gibbs says he's happy where he is.
(Read article summary)
It's awkward when the spokesman is the story. But White House Press Secretary Robert Gibbs insisted at the daily briefing Monday that there was no story, for now.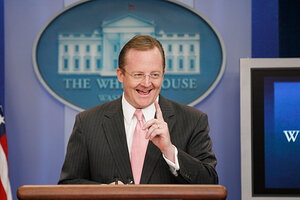 Pablo Martinez Monsivais/AP
It is awkward when the spokesman becomes the story, as White House Press Secretary Robert Gibbs's experience at Monday's briefing showed.
The Obama White House is trying to remain focused on the critical midterm elections now just one month away. But major changes in President Obama's inner circle – including the departure of chief of staff Rahm Emanuel and several key economic advisers – have focused attention on who is staying and who might join the West Wing exodus.
On Saturday, Politico posted a story saying Mr. Gibbs, a close adviser and confidant of the president's, was being considered as a potential chairman of the Democratic National Committee to help with the president's 2012 election bid. The current DNC chair, former Virginia Governor Tim Kaine, would move to a cabinet position, the story said.
Seeking to quash the story, Gibbs tweeted on Saturday: "I have not had any conversations about the future – it is a great honor to have the job I have right now and I am very happy doing it."
---