Topix.com tries to help voters sort through the Election 2010 muddle
(Read article summary)
The news and chat website Topix is unveiling a new Election 2010 section to generate data and discussion on races coast to coast. But political scientists view it with concern.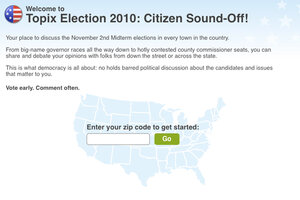 http://www.topix.com/pr/election2010
Election Day is just around the corner – do you know who and what you are voting for?
That question hangs like a scary, midterm exam for many Americans. How is a body to get through all that tiny print in the plump voter pamphlet with so many names and issues?
The team behind Topix, one of the largest online community news and information forums, asked the same question and today launched their answer: the Election 2010 section, a nationwide source of information about local races, from a sheriff in Kentucky to the Senate race in California.
Enter your ZIP code and the system will produce local news and discussion groups about the various issues and candidates that will appear on your Nov. 2 ballot. The site is debuting with coverage in 18 states.
A 'town hall' for the 21st century
The site, which is funded in part by news organizations such as Gannett, McClatchy, and the Tribune Companies, culls data from local newspaper stories as well as officials. But it will be most useful because of the person-to-person interaction on the site, says CEO Chris Tolles.
---