Will the Beck and Colbert-Stewart rallies rock the vote?
From Glenn Beck to Jon Stewart and Stephen Colbert, talk show hosts are encouraging their fans to get involved. But will they spark longer-term political activism?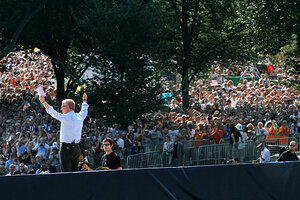 Jacquelyn Martin/AP/File
At a time when many voters are rebelling against traditional political-party labels, it is no coincidence, say media and political experts, that the most talked-about rallies in Washington during this election season are the work of three talk show hosts.
First, there was the Aug. 28 rally on the steps of the Lincoln Memorial, fronted by Fox's Glenn Beck. Coming up on Oct. 30 will be the other, a double-header bash before the Nov. 2 election: Comedy Central's Jon Stewart and Stephen Colbert are putting on the Rally to Restore Sanity and/or Fear on the National Mall.
More and more, the average voter views the mainstream political system as "broken," says Geoffrey Baym, author of "From Cronkite to Colbert: The Evolution of Broadcast News." Americans across the ideological spectrum are turning to what they consider "outsider voices to articulate their concerns." Increasingly, those contrarians are on television and radio talk shows, he adds.
---
Follow Stories Like This
Get the Monitor stories you care about delivered to your inbox.