The 'Rally to Restore Sanity' is coming! Send in the wonks.
(Read article summary)
Jon Stewart is filming his 'Daily Show' in Washington ahead of this weekend's 'Rally to Restore Sanity.' His guest list – and his questions – give the appearance that he's being soft on Democrats.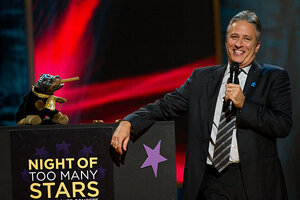 Charles Sykes/AP/file
Jon Stewart's "Daily Show" is filming in Washington this week. Let the parade of the wonks begin!
What do we mean by that? Well, Stewart landed President Obama as a guest for Wednesday's show. That's a coup for the comedian in advance of his "Rally to Restore Sanity," scheduled for Saturday on the National Mall.
But to get Mr. Obama, maybe – just maybe – Mr. Stewart agreed to have some other administration folks on as well. Such as Monday's headliner: the chairman of the White House Council of Economic Advisers.
"Our guest tonight, President Barack Obama's ... chief economist Austan Goolsbee. He's good, too," said Stewart at the start of the show, sort of apologizing in advance for the interviewee.
And he was good, or at least smooth – Mr. Goolsbee got his top job in part because he is a skilled television performer. It helps that he did improvisational comedy when he was a student at Yale. Though he did keep thrusting his arms forward, hands clenched, in what Stewart dubbed his "strangle motion".
(We're surprised Stewart did not go for the comic effect of the name, which sounds something like a character from a British film. "Austan Gooooollllllssssbeeeee, International Behavioral Economist of Mystery...)
ONE MINUTE DEBATE: Should America's illegal immigrants be offered legal status?
The interview was pretty substantive. It dealt with the administration's position on why unemployment is so high (the recession dug a very deep hole, and it will a long time to climb out of it) and Republican attitudes towards Obama ("It's like the old East German judge – he can hit a triple Lutz, and they're still going to give him a two," said Goolsbee.)
---