Obama turns to '60 Minutes.' Who is he trying to reach now?
(Read article summary)
President Obama's postelection media strategy seems to pull back from the edgy with an appearance on the tried-and-true '60 Minutes.' Some say the move makes sense.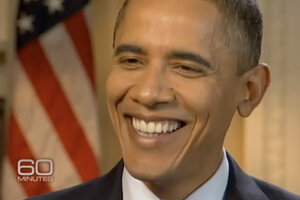 cbsnews.com screengrab
President Obama's post-"shellacking" media strategy is a far cry from the new-media crawl he undertook in the last weeks of the mid-term election cycle.
Rather than popping onto yet another morning radio talk show or hanging out with one more comedian, the commander-in-chief is turning to the tried and true, taping a sit-down, one-on-one interview with "60 Minutes" veteran Steve Kroft.
A preview of Mr. Obama's full interview sneaked onto CBS's "Early Show" Friday, and the full chat will run Sunday night.
So, what gives? Is he stiff-arming the younger demographic he so yearned to rouse with his walk on the Facebook/Twitter side? Or is he just taking what has been the presidential media path of choice for some four decades?
Gold standard
"This is the gold standard of TV journalism," says author Ari Berman ("Herding Donkeys"). It makes sense for Obama to turn to an outlet with the reach and gravitas of the longest-running news magazine on the air, he says, noting that the hard news format still garners strong ratings, despite its longevity.
---