Scott Pelley in, Katie Couric out, at CBS Evening News
(Read article summary)
Scott Pelley, who Mike Wallace once called 'the finest journalist in the business,' will replace Katie Couric as the face of CBS Evening News.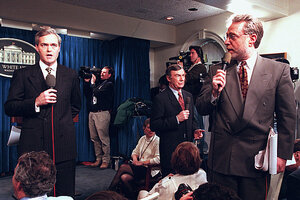 Andy Nelson / The Christian Science Monitor
Veteran CBS newsman Scott Pelley will replace Katie Couric on the evening newscast beginning June 6. This could be a deliberate backwards nod to Ms. Couric's predecessor – he even hails from Dan Rather's home state of Texas – or a statement about the future of the evening newscast itself.
Either way, Scott Pelley is the "little black dress of TV reporters," says Jason Maloni, chair of Levick Strategic Communication's Sport & Entertainment practice.
"He is as safe a choice as you could make," he says – not as criticism, but as a statement about Mr. Pelley's solid grounding in traditional reporting values, he adds. "Couric was a celebrity and CBS clearly hoped that would bring new viewers to the evening broadcast," says Mr. Maloni. "That didn't work out, so they are going back to the more conventional choice."
Former CBS Moscow bureau chief Beth Knobel, who now teaches journalism at New York's Fordham University, says Pelley is more than merely a safe choice. "He is an exceptional journalist and an exceptional person," she says.
---