Dick Cheney versus Colin Powell: Memoir feeds the feud.
(Read article summary)
Former Vice President Dick Cheney's new memoir, 'In My Time,' has passages critical of Colin Powell. The former secretary of State took his shots on Sunday, and Cheney is jabbing back.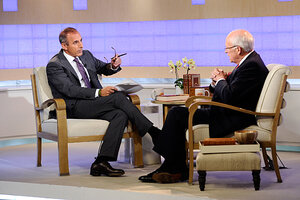 Peter Kramer/NBC/AP
Former Vice President Dick Cheney on Tuesday defended the way he treats ex-Secretary of State Colin Powell in his new memoir "In My Time".
Mr. Cheney told interviewer Matt Lauer on NBC's "Today" that while there are passages in the book critical of Mr. Powell, there are also chapters about how well the pair worked together at the Pentagon when Cheney was secretary of Defense and Powell was chairman of the Joint Chiefs of Staff.
"So there's a lot of very positive stuff in there. But a balanced account, I think, also required me to put down what my opinion was, and that's what I've done," said the ex-veep.
Cheney's memoir is being officially released Tuesday. Among its most notable overall themes is that the Bush administration cabinet was a team of rivals, a group of antagonists who disagreed with each other – or at least with Vice President Cheney – and fought and backstabbed in the best Washington bureaucratic traditions.
For instance, in the book Cheney accuses Powell of undercutting President Bush's move to invade Iraq by expressing doubts about the policy to people outside the administration. Things reached the point where after the 2004 election, Cheney pushed Mr. Bush to fire Powell, he writes. Powell's resignation in November of that year "was for the best," Cheney writes.
---