Dick Cheney on 'Hannity': Who is he attacking now?
(Read article summary)
Former Vice President Dick Cheney appeared on Fox News's 'Hannity' to promote his new memoir. On the show, he took aim at President Obama and even President George W. Bush.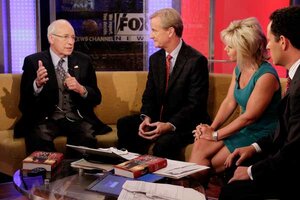 Richard Drew/AP
Ex-veep Dick Cheney has been all over the media this week promoting his new memoir "In My Time." He's hit the morning talk shows – "Today," "Good Morning America," and so forth – and he's had good print exposure too, including a big spread in "USA Today."
Most authors can only dream of such a publicity tour. Of course, most authors don't get involved in public spats with Colin Powell and Condoleezza Rice, either. Nor are they the subject of televised speculation as to whether they could be tried for war crimes.
Well, given the exposure and the controversy, the book must be selling well, right?
Yes. "In My Time" has gone big time. Amazon's best-seller list puts the hardcover at No. 3 overall, just ahead of that soon-to-be-a-major-motion-picture teen novel "The Hunger Games."
Mr. Cheney's memoir ranks No. 1 in historical biography, and No. 1 in history about the United States, according to Amazon.
(Note: No, the book won't be in Sunday's New York Times bestseller list. That's because it measures book store sales and lags behind. We're pretty sure it will show up there soon, too.)
---