On display at raucous Republican debate Monday night was the tea party itself
(Read article summary)
The Republican debate, which was co-sponsored by the Tea Party Express and seemed at times like a sporting event, got out the tea party message: It's a force to be reckoned with.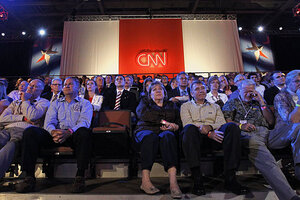 Mike Carlson/AP
Monday night's GOP candidate debate, co-sponsored by the Tea Party Express, may have been political in its focus but it was "Sports Night" at heart – pure primetime storytelling.
Producers took a page from the playbook of its time-slot competition, "Monday Night Football" ­– from the raucous crowd warm-up act to the pop-singer-wobbly rendition of the national anthem and the booming shout-outs of each player's, er, participant's, moniker (the Libertarian! The Businessman! etc).
The subtext of this political soap: A tale about the tea party itself.
"What other splinter party has ever had its own debate on prime-time television?" says Richard Laermer, author of "2011: Trendspotting." While he knocks the candidates for seeming unprepared for the rough-and-tumble of the questions, he says, "the tea party is telling its story" – that it is a force to be reckoned with – "loud and clear."
"That CNN would partner with them" sent a broad message of legitimacy, adds Clyde Frazier, professor of political science at Meredith College in Raleigh, N.C., saying, "clearly, it also sends a message of influence."
---