Stephen Colbert almost bought naming rights to South Carolina GOP primary
(Read article summary)
Along with naming rights, Stephen Colbert wants to place a referendum on the South Carolina GOP primary ballot asking voters to decide if 'corporations are people,' or if 'only people are people.'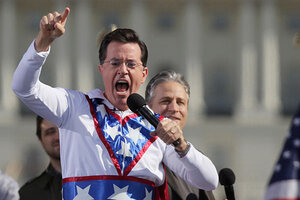 Carolyn Kaster/AP
Comedian Stephen Colbert just can't keep away from mixing it up with presidential politics in his home state of South Carolina. After a failed attempt to enter the 2008 GOP primary there, he's at it again.
This time, he began with an audacious bid to rename the January GOP primary after his super PAC, Making a Better Tomorrow, Tomorrow. In exchange for a donation, the primary's proposed new tag would have been, "The Colbert Nation Super PAC Presidential Primary."
He also wanted to place a referendum on the ballot, asking voters to decide if "corporations are people," or if "only people are people."
The GOP ultimately turned down Colbert's naming-rights offer and the state Supreme Court ruled there could be no referendum on the ballot, leading Mr. Colbert to appeal to the South Carolina Democratic party for help.
The possibility that the primary might have been up for sale is leading some Republicans to shake their heads in dismay.
"What were they thinking?" says Atlanta-based Republican strategist David Johnson."They were clearly dazzled by the potential donation and now they have egg all over their face." He says they ought to have known better, noting that the comedy card must be played very carefully.
"Leno and Letterman are one thing. They are basically a talk show and if you go along with them they are pretty much a softball." Mr. Johnson says. But cable hosts are a different matter, with fewer restrictions for on-air content.
"You get down in the mud with Colbert and you will have mud all over yourself," he says.
---