Will Jon Stewart go to jail for running Stephen Colbert's super PAC?
(Read article summary)
As the head of a super political-action committee supporting Stephen Colbert, Jon Stewart is not allowed to 'coordinate' with Colbert. But the two are pushing the limits in the name of satire.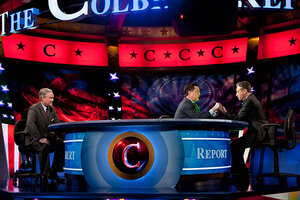 Kristopher Long/Comedy Central/AP
Jon Stewart does not want to go to jail. This is understandable – the bagels in prison aren't fresh, and Wi-Fi access is extremely limited.
So – as he explained on Tuesday night's show – he is worried about his new position as head of Stephen Colbert's super political-action committee. He's happy with the money, of course, and the power, and so on. He's thinking of buying himself one of Elizabeth Taylor's tiaras. (We're not making this up.) But he heard Mitt Romney say on "Morning Joe" that he (Mitt) can't coordinate with his own super PAC or he'll go the "big house."
"Which of your big houses do you go to? The beach house or the ski chalet?" asked Mr. Stewart, before mugging it up in mock horror at finally getting Mr. Romney's joke.
"I don't want to go to jail! I need guidance! Stephen!" said Stewart. Then Mr. Colbert himself walked out on stage and the audience exploded in glee.
Let's back up for second here, shall we? For some time, Colbert has had a super PAC, a new kind of political money machine that's allowed to accept unlimited amounts of money from private donors, and spend it on ads, or whatever, in support of its favorite candidates.
---