U.S. rebuilds French connection
The Pentagon hopes better ties will strengthen NATO and boost the mission in Afghanistan.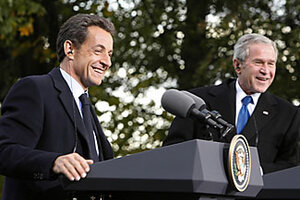 Gerald Herbert/AP
Pentagon insiders call it "the Sarkozy moment" – an opportunity to rebuild a relationship with the French government and military made possible by the election last year of Nicolas Sarkozy as French president.
Mr. Sarkozy's goodwill toward the US has already paid dividends in the form of an additional French combat battalion for Afghanistan. But American defense officials hope an improved relationship will pay off in other ways too, including a stronger NATO alliance, especially since France is expected to take over the next six-month rotation helming the European Union.
The emerging bond between the two countries also represents a change in tone for the Bush administration that, in its remaining months, appears to be more inclined to listen to its allies rather than talk at them, analysts say.
It's in stark contrast to a few years ago when the US and France disagreed vehemently over the invasion of Iraq, capping decades of dissonance over foreign policy. "Thank goodness we're not talking about freedom fries [anymore]," says Jim Townsend, who was principal director for European and NATO policy at the Pentagon and is now vice president at the Atlantic Council in Washington.
Why France, US need each other
Since Sarkozy assumed office a year ago this month he has signaled several times that he wants to start over with the US, wiping the slate clean from the previous government under former French President Jacques Chirac.
---