Runoff a test for Afghanistan: Is Karzai a reliable partner?
Afghan President Hamid Karzai agreed to the Nov. 7 election runoff under heavy pressure. With Obama considering sending more troops to Afghanistan, the US will be watching to see if the corrupt government is trustworthy.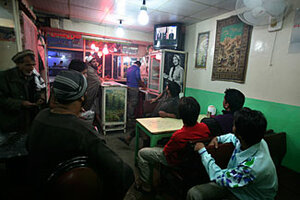 Altaf Qadri/AP
Afghan President Hamid Karzai's acceptance of a Nov. 7 runoff presidential election – under intense international pressure – stresses the mounting desire in the US and Europe to have a more reliable partner in Afghanistan.
The US is making it clear that the election must result in a less corrupt, more efficient, and more representative government. The first round of the election was marked by widespread fraud widely connected to Mr. Karzai's government.
Hanging in the balance is President Obama's decision on additional troops and resources for Afghanistan. White House Chief of Staff Rahm Emanuel said Sunday on CNN that it would be "irresponsible" to commit more troops before the political situation is resolved.
President Obama on Tuesday praised the Afghan president for "constructive actions" that set "an important precedent for Afghanistan's new democracy." But he also said that "above all" the US is interested in the "strength and independence" of the country's institutions – at this moment its electoral board and watchdog in particular.
---