Who is Abdullah Abdullah?
The challenger in the Nov. 7 presidential runoff election in Afghanistan, Abdullah Abdullah, said Sunday that he might withdraw unless Hamid Karzai takes steps to ensure that the runoff will be fair.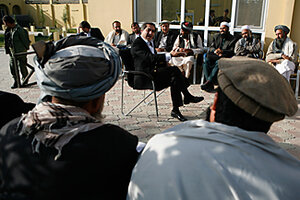 Farzana Wahidy/AP
Abdullah Abdullah, the challenger to Afghan President Hamid Karzai, suggested Sunday that he might not participate in the runoff election scheduled for Nov. 7.
Mr. Karzai must meet a list of demands in order to avoid the widespread fraud that marred the Aug. 20 presidential election, Dr. Abdullah said on CNN's "State of the Union" Sunday.
Without these assurances of a fair election, Abdullah said he "was not going to take the country through this saga again."
Echoing the sentiments he made to The Monitor Friday, he noted that "people lost their lives" in violence that erupted during in the first election: "I don't want this opportunity to turn into another waste."
The comments are undoubtedly – at least in part – overseas electioneering, Afghan style. Abdullah is playing upon Washington's doubts about corruption in Karzai's government in hopes of finding an ally. He has said Karzai must ensure the impartiality of the election commission and eliminate the "ghost polling sites" at the center of the fraud – demands the US is likely to support.
Yet he is no typical Afghan power-broker – seeking a sweet deal from Karzai or backing his threats with cadres of rifle-carrying followers. In many respects, Abdullah is a uniquely complex character in Afghan politics.
A mixed past
---