Did Obama send a personal letter to North Korea's Kim Jong Il?
Ambassador Stephen Bosworth won't say whether he carried a personal message from Obama to North Korea's leader on his recent trip there. 'I was the message,' he said.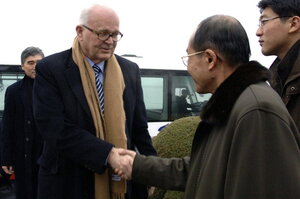 Korean Central News Agency via Korea News Service/AP/ File
The US envoy who traveled to Pyongyang for the Obama administration's first high-level talks with North Korea did not get to meet Kim Jong Il, the mercurial North Korean leader.
But he says that he's not offended. After all, only two American officials have met Kim Jong Il, ever. And those were Secretary of State Madeleine Albright and ex-President Bill Clinton.
"He does not meet with a lot of people. He meets with non-North Koreans very rarely," said US Special Representative for North Korea Policy Stephen Bosworth at a Dec. 16 briefing for reporters.
Ambassador Bosworth would not confirm news reports that he carried a personal letter from President Obama to North Korea's leader.
"I was the message," said Bosworth.
Glimpse of a better future?
The main point of the message was that the relationship between North Korea and the US, and between North Korea and its East Asian neighbors, could be very different, and more positive, than it is today.
Of course, that is "provided that North Korea proceeds down this road to denuclearization," said the US envoy.
---