Clinton, Ahmadinejad to face off at UN over nuclear nonproliferation
Secretary Clinton will declare the 40 year-old Nuclear Non-Proliferation Treaty threatened by Iran and North Korea, while Iran's Ahmadinejad is expected to criticize world powers for failing at disarmament.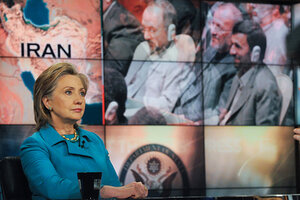 William B. Plowman/Meet the Press/AP
President Obama has made nuclear nonproliferation and disarmament the top priority of his diplomatic outreach this year, but that vision will face a sharp challenge at the United Nations in New York Monday when Iranian President Mahmoud Ahmadinejad takes the stage.
Announcing only last week that he would attend a 189-nation conference on the Nuclear Non-Proliferation Treaty, the controversial Iranian leader plans to mount a frontal attack on world nuclear powers – the United States chief among them – that he will say have failed in the NPT's nuclear disarmament obligations.
Monday's opening session of a normally staid, little-noticed, twice-a-decade review of the treaty takes on the trappings of a clash of rival global visions because Mr. Ahmadinejad will be closely followed on the conference dais by Secretary of State Hillary Rodham Clinton. Secretary Clinton may or may not refer to Iran by name in her comments, but aides say she will declare the 40-year-old NPT, considered a cornerstone of international security, threatened by countries like Iran and North Korea that, according to UN nuclear experts, have violated its terms.
---