In a first, US will disclose how many nuclear weapons it has
Hillary Clinton made the announcement during a UN conference on nonproliferation. The move toward transparency is part of Obama's quest for a nuclear-weapons-free world.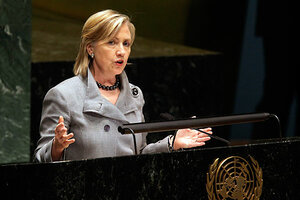 Richard Drew/AP
Secretary of State Hillary Rodham Clinton told a United Nations conference on nuclear nonproliferation Monday that the US will disclose details of its nuclear arsenal – such as how many bombs it has and how many it has destroyed – as part of President Obama's quest for a nuclear-weapons-free world.
Secretary Clinton spoke from the same podium where hours earlier Iranian President Mahmoud Ahmadinejad had condemned the US as a power-hungry nuclear power. When it was her turn, Clinton told the conference of 189 signatories to the Nuclear Non-Proliferation Treaty (NTP) that it was adherence to the 40-year-old treaty that would make the eventual goal of a nuclear-weapons-free world possible.
The "transparency" the US is demonstrating through disclosure of the details of its nuclear arsenal should encourage other countries to commit to nuclear nonproliferation and disarmament, she said.
On the other hand, Clinton said, it is a country like Iran – repeatedly found by UN agencies and the Security Council to be in noncompliance with its obligations under the NPT – that threatens to send the world on a path of reduced international security.
Quoting from Mr. Obama's statement to the NPT review conference, Clinton said the world has a "choice" between "a 21st century of more nuclear weapons, or a world without them."
---