UN conference on nuclear proliferation a big test for Obama
The Nuclear Non-Proliferation Treaty conference opens at the United Nations on Monday. Reducing nuclear weapons is a key issue for President Obama, but there are many challenges.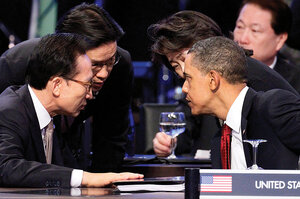 Alex Brandon/AP
Can President Obama bring "sexy" back to nuclear non-proliferation?
That may be too much to ask of any American president, even one who has managed to put nuclear issues at the top of the international agenda while remaining a globally popular leader. But Mr. Obama faces what may be the biggest challenge so far to his vision of a world of steadily reduced nuclear risks when the Nuclear Non-Proliferation Treaty (NPT) review conference opens at the United Nations May 3.
Frequently an arcane and bureaucratic speechfest for the 40-year-old treaty's nearly 190 signatory countries, the once-every-five-years review of one of the pillars of international security often highlights the divisions between the world's nuclear haves and have-nots more than anything else.
But this year the profile of the month-long conference has been raised for two reasons – only one of which has to do with Obama.
Yes, the president's attention to the threat posed by nuclear weapons – starting with his April 2009 speech in Prague, Czech Republic, calling for a world free of nuclear bombs and including April's Washington summit on keeping nuclear materials out of terrorists' hands – is a key reason for heightened interest in this year's conference. Obama wants steps taken to strengthen the NPT, and for the past year has set his administration's nuclear security experts to work on that goal.
---