North Korea edges toward new nuclear talks
UN undersecretary-general Lynn Pascoe said today that North Korea is 'not eager to return to six-party talks,' but others say Kim Jong-il appears ready for renewed dialogue.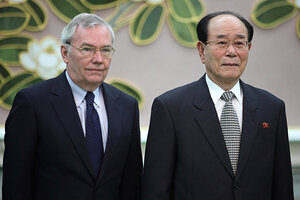 APTN/AP
North Korea's leader Kim Jong-il appeared anxious to show China and the US that he's open to dialogue as the reclusive North edged closer Friday to six-party talks on its nuclear weapons.
North Korea's nuclear envoy, Kim Kye-gwan, returned from Beijing on Friday just as a top UN political official concluded a four-day visit to Pyongyang. Both missions look to analysts as unmistakable moves to resume six-party talks not held since December 2008.
"It looks like North Korea is paving the way to return to talks," says Han Sung-joo, who has served as South Korea's foreign minister and ambassador to Washington. "They want to do a favor to China, and they want to placate both the US and South Korea."
The most obvious sign of that willingness were reports here that envoy Kim Kye-gwan is scheduled to fly next month to Washington, where he is expected to meet the US envoy on Korea, Stephen Bosworth, and other top officials.
---