US-Mexico tensions darken visit of President Felipe Calderón
Drug violence, trade, and border issues – including Arizona's new immigration law – are among the difficult issues to be discussed when Mexican President Felipe Calderón visits Washington Wednesday.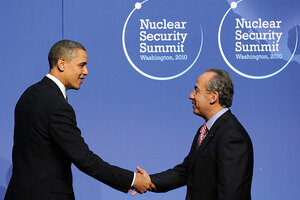 Newscom
US-Mexico relations are never simple or care-free. But rising drug violence concentrated in Mexico's border communities and Arizona's new anti-illegal-immigration law provide a particularly difficult backdrop for Mexican President Felipe Calderón's state visit to Washington Wednesday.
President Obama and first lady Michelle Obama will be all smiles when they greet President Calderón and Mexican first lady Margarita Zavala for a full day's visit, which includes a press conference, State Department lunch, and a White House state dinner.
The Obamas are having guest chef Rick Bayless from their favorite Mexican restaurant in Chicago, Topolobambo, prepare the evening meal.
But the festivities won't be able to cover over tensions in the relationship, including US concerns about corruption in the Mexican security forces and Obama's failure to resolve a controversy over a NAFTA provision to allow Mexican trucks on US highways.
---