National Security Strategy: Derailed by debt?
Hillary Clinton laid out the Obama administration's National Security Strategy Thursday. But she acknowledged that unless deficits can be reined in, the vision won't be realized.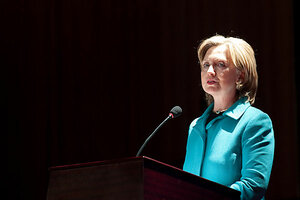 Saul Loeb/AP
Secretary of State Hillary Rodham Clinton laid out a new National Security Strategy Thursday based on what she described as increasing integration of the "critical" three D's – defense, diplomacy, and development. But she acknowledged that unless a fourth D – deficits, or debt – can be reined in, the Obama administration's vision of a "smarter" definition and deployment of American power won't be realized.
"We cannot sustain this [current] level of deficits and debt without losing our influence and being restrained in the three D's," Secretary Clinton said, in unveiling President Obama's first National Security Strategy. She spoke before an overflow audience at the Brookings Institution in Washington.
The National Security Strategy, which Congress mandated in a 1986 law, is supposed to be an administration's annual statement on the goals of American power, how it will be exercised, and how the administration intends to use America's military and diplomatic apparatus to further US security interests.
Perhaps the best-known recent National Security Strategy, or NSS, was the one issued by the Bush administration in 2002 in the aftermath of the 9/11 attacks. It quickly became summarized in one word: unilateralism.
The Obama strategy may fall victim to the same kind of shorthand and end up reduced to the essence of one of its pillars: multilateralism, or perhaps burden sharing. That term better captures the document's theme of America leading but requiring old and new partners to tackle the challenges confronting an increasingly interconnected world.
---
Follow Stories Like This
Get the Monitor stories you care about delivered to your inbox.