General Petraeus: US troops to remain in Afghanistan for years
General Petraeus told senators at his confirmation hearing that he supports President Obama's Afghanistan strategy, including its exit plan. But he also said US forces would remain in the country for the foreseeable future.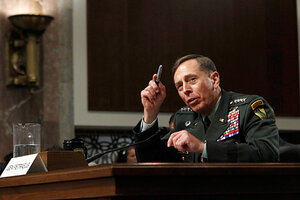 Kevin Lamarque/Reuters
Gen. David Petraeus on Tuesday appeared to adroitly navigate around the potential pitfalls of his nomination hearing to be commander of allied forces in the Afghanistan war. In particular, General Petraeus vowed to senators that he supports President Obama's Afghan strategy, including its exit plan, while simultaneously reassuring them that the US commitment to the fight there "is an enduring one."
Petraeus repeated that the July 2011 deadline for the beginning of troop withdrawals is flexible and that any such drawdown will occur only if it is warranted by conditions on the ground. The formulation seemed to satisfy most, though not all, members of the Senate Armed Services Committee. The chairman of the panel, Sen. Carl Levin (D) of Michigan, noted that it is foreordained that Petraeus will win confirmation to his new post.
"I'm allowed to assume you will be confirmed. You're not, but I am," Senator Levin told Petraeus at one point, drawing laughter from his fellow lawmakers.
---