Dissidents say Iran nuclear sanctions are helping Ahmadinejad
The Obama administration says Iran nuclear sanctions are beginning to have an effect. But two prominent dissidents say the sanctions are playing into the hands of the Ahmadinejad regime.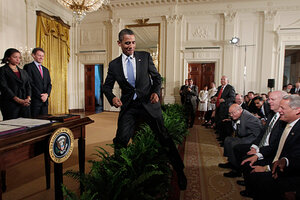 J. Scott Applewhite/AP
Just as the Obama administration has started to trumpet the impact that tougher sanctions are having on Iran, some Iranian dissidents are saying, "Not so fast."
The dissidents' view: The fourth round of United Nations sanctions passed in June, and the even-more-onerous economic measures taken by the United States and the European Union since then are working to the advantage of President Mahmoud Ahmadinejad and the Iranian regime by helping it consolidate power.
The two prominent dissidents who have spoken up are the unsuccessful presidential candidate in last year's elections, Mir Hossein Mousavi, and a former speaker of Iran's parliament, Mehdi Karroubi. They say in a public letter that the tougher sanctions only hurt "the most vulnerable social classes of Iran" and are a boon to the ruling powers.
The recent letter runs counter to the Obama administration's stance, as presented recently by the president, Secretary of State Hillary Rodham Clinton, and other officials. Their view: sanctions are beginning to bite and could prompt Tehran's return to the negotiating table over its nuclear program.
---