Pakistan: Study shows appreciation for US disaster aid
A survey of Pakistanis living near the worst-hit areas of 2005 earthquake finds enduring positive attitudes toward foreigners, including Americans.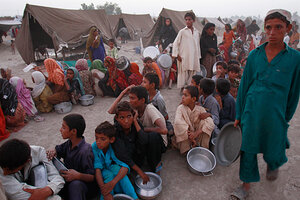 Aaron Favila/AP
Is all that foreign aid flowing into Pakistan in the aftermath of last month's massive floods changing the way Pakistanis feel about the West, and in particular the United States?
Public opinion surveys conducted in Pakistan in the past have suggested that the country's very low opinion of Westerners, and Americans in particular, doesn't improve much as a result of sudden foreign largess in response to a natural disaster.
But a new study plumbing the views of more than 28,000 households in 126 villages in the part of Pakistan devastated by a massive earthquake in 2005 finds that attitudes toward foreigners, including Americans, shifted significantly to the positive and in an enduring manner as a result of assistance from abroad.
"What we found is that trust in foreigners changes in response to action," says Tahir Andrabi, a political economist at Pomona College in Claremont, Calif., who organized the study with Jishnu Das, a World Bank research economist. "The big picture from our work says that what you do on the ground as a country and a people really does matter."
---