Pakistan floods: Pakistani Taliban threats don't deter foreign aid workers
Pakistan flood foreign aid groups appear to be unfazed by Taliban threats that their presence is 'unacceptable.' Foreign aid workers note that they are always working in a 'high security context.'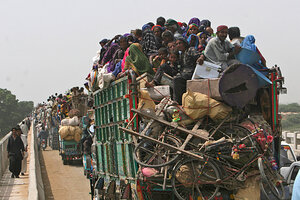 Fareed Khan/AP
International aid organizations here appear unfazed by the Pakistani Taliban's declaration that their presence in the flood-hit country is "unacceptable."
"It's not affecting our activities – we're continuing our operations normally and in fact we're increasing our response to the flood disaster," says James Nichols, a spokesman for Médecins Sans Frontières (MSF), which is providing medical care, clean water, and hygiene kits throughout Pakistan.
On Thursday, Pakistani Taliban spokesman Azam Tariq told the Associated Press that "no relief" is reaching the affected people and termed the presence of foreign aid workers "unacceptable."
"When we say something is unacceptable to us, one can draw his own conclusion," he added.
State Department spokesman P.J. Crowley said that the US government is in possession of threat information. "It is a real threat," he said.
---