WikiLeaks: Leaked cables reveal the rough workings of diplomacy
WikiLeaks gave some 250,000 confidential and secret diplomatic cables to several news outlets, which published them Sunday. The leaks could prove embarrassing and potentially dangerous.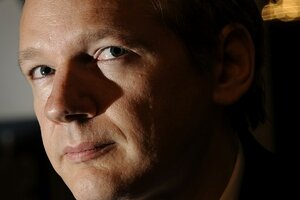 Newscom
After days of anticipation and unheeded warnings from the Obama administration, the huge and controversial data dump from whistle-blower website WikiLeaks is being published and broadcast.
As reported by The New York Times (which, along with the British newspaper The Guardian and the German news magazine Der Spiegel, began revealing the data Sunday afternoon), the cache of a quarter-million confidential American diplomatic cables "provides an unprecedented look at backroom bargaining by embassies around the world, brutally candid views of foreign leaders, and frank assessments of nuclear and terrorist threats."
The Guardian reports the leaked information as including: Arab leaders privately urging an air strike on Iran, US officials being instructed to spy on the United Nation's leadership, alleged links between the Russian government and organized crime, "devastating criticism" of British military operations in Afghanistan, and claims of "inappropriate behavior" by a member of the British royal family.
---