Wikileaks release: in Russia, fear of damage to future US relations
As Wikileaks prepares to release millions of confidential cables, Russian diplomats worry about their ability to talk frankly in the future – while some politicians and anti-Kremlin activists are concerned about private conversations.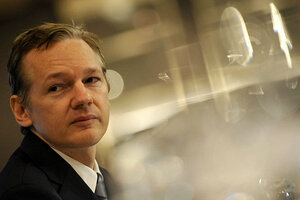 Lennart Preiss/AP/File
Wikileaks is about to drop its biggest-ever bombshell – some 2.7-million confidential diplomatic cables from US embassies around the world – and, although US credibility is likely to take the worst hit, much of the collateral damage may end up in Moscow.
"Among the countries whose politicians feature in the reports are Russia, Afghanistan, and former Soviet republics in Central Asia. But other reports also detail potentially embarrassing allegations reported to Washington from US diplomats in other regions, including East Asia and Europe," Reuters reported Thursday, noting that this huge document dump is expected as early as next week.
Dispatches sent by embassy workers often contain detailed accounts of private conversations with local politicians, businesspeople, journalists, dissidents, academics and public figures. The anticipated blizzard of dispatches from the US Embassy in Moscow to Washington is likely to publicly reveal the raw workings of US diplomacy on the ground and its range of contacts within Russian society. It may also detail the process by which the State Department forms its judgments about the Kremlin and its policies.
---