If Palestinian rift is healed, does that help US aims in Middle East?
Analysts see some good news for the US, but mostly bad in a Palestinian rift-ending accord. The deal is also seen as a hint of things to come in the increasingly democratic Middle East.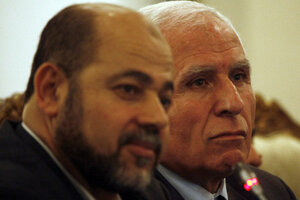 Khalil Hamra/AP
The surprise rift-ending accord reportedly reached in Cairo between the Palestinian factions Fatah and Hamas Wednesday is potentially both good and bad news for the Obama administration's stated goal of forging some kind of Israeli-Palestinian peace agreement by September.
But the bad largely outweighs the good, many Middle East analysts say.
And beyond the Israeli-Palestinian conflict, they add, the accord may offer a glimpse of the more politically complex region the US will have to deal with in the wake of the Arab Spring.
Top 5 issues on the table for Israeli-Palestinian talks
"We're very possibly looking at a hint of things to come in a more democratic Middle East," says Daniel Levy, co-director of the Middle East Task Force at the New America Foundation in Washington. "Either America figures out how to deal with a general opening up of politics in the region," he adds, "or it is going to be left behind."
---