On Europe trip, Obama to argue against a vote for a Palestinian state
Obama calls the statehood plan a misguided effort to isolate Israel. One factor Europeans might take into account at the time of a UN vote is whether the moribund peace process shows any life.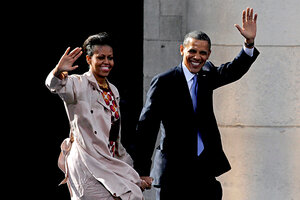 Stefan Wermuth/Reuters
President Obama takes his ideas for addressing Middle East turmoil to Europe this week, including his proposal to back up the political reforms under way in Egypt and Tunisia with targeted international economic assistance.
But having told Israel Sunday that it is time to make "hard choices" for peace with the Palestinians before changes in the region make an accord even more difficult, Mr. Obama now has a new task: persuading the Europeans not to support the declaration of a Palestinian state in September.
The president said in his Middle East speech last week that plans afoot for the United Nations General Assembly to vote at its September meeting on a declaration of an independent Palestine would accomplish nothing for the Palestinians. Calling the plan a misguided attempt to isolate Israel, Obama said the United States would oppose the effort.
Now Obama's attention shifts to convincing leaders with whom he will meet on his three-country European trip to reject the statehood proposal, which is already gaining significant support.
---