Yemen, Sudan, Libya: Can US douse flames of Middle East hot spots?
With the euphoria over the Arab Spring wearing off, President Obama is sending top aides to the Middle East to address worsening violence in Yemen and fears of renewed civil strife in Sudan.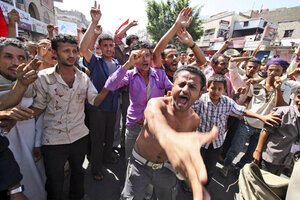 Anees Mahyoub/AP
With several conflicts in the Middle East and North Africa deteriorating, President Obama is dispatching senior members of his foreign policy and national security team to the region to try to stop things from getting worse.
The White House announced Wednesday that John Brennan, Mr. Obama's top counterterrorism adviser, is in the Sudanese capital of Khartoum consulting with government officials on recent setbacks to a 2005 peace accord that some in the region fear could mean a return to civil war.
After Sudan, Mr. Brennan will continue on to Saudi Arabia and the United Arab Emirates, where the US will try to give renewed impetus to the Gulf Cooperation Council's proposal for a transition of power in Yemen. Yemen has witnessed raging gun battles and mounting deaths in recent days as President Ali Abdullah Saleh has rebuffed demands that he step down.
---