Tough words, tighter sanctions for Syria, but no end to state-led violence
At least 50 more Syrians were killed Thursday in state-ordered violence. Deaths surpass 2,000 since political protests broke out in Syria five months ago, says Secretary of State Hillary Clinton.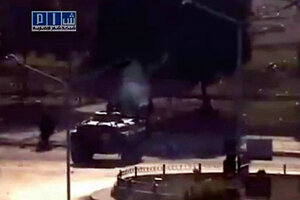 SHAMSNN/AP
International pressure on the regime of Syrian President Bashar al-Assad ratcheted up Thursday, a day after the United Nations Security Council condemned the regime for violent repression of opposition demonstrations.
But as Russia hardened its stance toward President Assad and as the European Union approved new sanctions targeting Syrian officials, the Assad regime answered by intensifying its assault in the opposition center of Hama, sending in more tanks and snipers.
At least 50 more Syrians were killed Thursday in state-ordered violence. US Secretary of State Hillary Rodham Clinton said Thursday that the regime is responsible for more than 2,000 deaths during five months of protests, and she repeated a previous assertion that Mr. Assad has lost all legitimacy.
Russian President Dmitry Medvedev, whose country was slow to accept the idea of Security Council action on Syria, said Thursday that Assad faces a "sad fate" if he does not quickly implement political reforms and open up to the opposition.
Mr. Medvedev said the Russian position on Syria is evolving as events unfold inside the country, piquing the interest of Western capitals that have sought Russian support for months for international action against Assad.
---