Rock star no more: why global opinion of Obama has deflated
A poll of global opinion finds that Obama's popularity has fallen – apparently because of disapproval of his drone-strike campaign. The drop in Arab countries is worse than in Europe.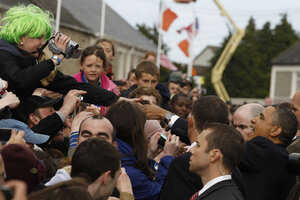 Larry Downing/REUTERS/File
Unilateral military action by the United States drags down global opinion of the American president.
Sound like the scenario that confronted former President George W. Bush? Actually, it's the picture painted by a new poll showing a significant drop in the international approval ratings of erstwhile global rock star Barack Obama.
The single most important explanation for the tarnishing of the Obama star status? Apparently it's the drone strikes he's ordered (at a faster clip than Mr. Bush ever did) to take out Al Qaeda and other extremist-organization leaders in Pakistan, Yemen, and Somalia.
The new poll, conducted by the Pew Research Center's Global Attitudes Project, finds that majorities in 17 of the 20 countries surveyed disapprove of Mr. Obama's drone-strike campaign. (On the other hand, Americans stand out in their support for the assassinations by unmanned aircraft: Roughly two-thirds of Obama's constituents approve.)
---