Massive bombing rocks Damascus: why it didn't break UN logjam on Syria
The crisis in Syria, capped by the massive bombing in Damascus, has yet to bridge the gap between world powers. While the US called for 'transition,' Russia said the UN has no place in supporting a 'revolution.'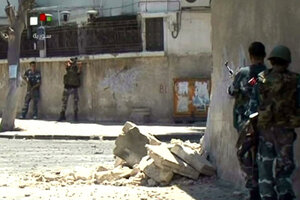 SANA/AP
The massive suicide bombing in central Damascus Wednesday that killed prominent members of President Bashar al-Assad's inner circle underscored how a country already torn by months of violence is sinking deeper into instability. But an alarming deterioration in just the last week appears to have done little to move world powers closer to common ground on Syria.
In the wake of Wednesday's bombing, the United Nations Security Council postponed until Thursday a vote on a resolution aimed at ending Syria's violence and initiating a political transition. But comments from proponents and opponents of forceful UN action on Syria suggested little movement toward a compromise.
"The incident today makes clear that Assad is losing control, that violence is increasing rather than decreasing, and that all of our partners internationally need to come together and support a transition," said White House spokesman Jay Carney. He said the situation prompted President Obama to call Russian President Vladimir Putin, apparently with the same message Mr. Carney gave the press: that Syria's violence will not end until Assad steps down and paves the way to a political transition.
---