Obama vs. Romney: VFW hosting campaign side trip into foreign policy
Preceding Romney by a day, Obama addresses the VFW convention, saying he'd kept his foreign policy promises to the veterans and touting, not surprisingly, the Osama bin Laden mission.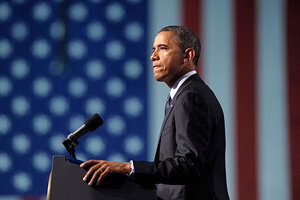 Susan Walsh/AP
President Obama told the Veterans of Foreign Wars Monday that he has kept the promises he made to them as a candidate four years ago – to wind down the wars in Iraq and Afghanistan, to "take the fight to Al Qaeda," and to renew America's global leadership – and said it is now time to turn America's focus to serving the thousands of veterans who after a decade of war will be returning to civilian life.
Mr. Obama spoke to the VFW convention in Reno, Nev., at the top of a week that promises to shift the presidential campaign, if only so slightly, from the economy to foreign policy.
Following Obama, Mitt Romney, the presumptive Republican presidential nominee, will address the VFW convention on Tuesday, before he heads overseas on a seven-day, three-country trip designed to demonstrate his "statesman" qualities to American voters.
The president mentioned neither his reelection campaign nor his Republican rival in his speech, choosing instead to emphasize what he has done as commander-in-chief. But it was clear from Obama's emphasis on his "track record" and "the promises I've made and the promises I've kept" that the president was unveiling the theme he plans to take into November to contrast his foreign-policy record with Governor Romney's lack of one.
Obama said that under his leadership America is "winding down a decade of war while strengthening our alliances around the globe," adding, "because we are leading around the world, the world has a new attitude about America."
---