Iranian group MEK coming off US terror list: Unrelenting campaign pays off
Members of Congress lauded the decision by Secretary Hillary Clinton to remove MEK from the State Department's terror list, saying the opposition group has become an important asset.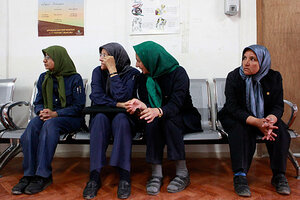 Hadi Mizban/AP
Secretary of State Hillary Rodham Clinton informed Congress Friday that she would remove a controversial Iranian opposition group from the US list of terrorist organizations, drawing to a close a dogged de-listing campaign by the group and its high-profile advocates that stretches back to the Bush administration.
The de-listing of the Mojahedin-e Khalq (MEK) was not unexpected, since Secretary Clinton was under court order to decide by Oct. 1 whether to remove the group from a list it had been on since 1997.
Clinton had said her decision would be guided in part by the group's cooperation in relocating hundreds of its adherents from a refugee camp in Iraq, and in recent weeks the State Department had signaled that the relocation process was proceeding toward resolution.
Under President Bill Clinton the MEK was placed on the terrorist list for the killing of six Americans in Iran in the 1970s and for a botched attack against the Iranian mission to the United Nations in 1992. Some Republican foreign-policy hawks charged the Clinton administration with listing MEK as a terrorist group in an effort to curry favor with the Iranian regime, but the group's efforts at winning de-listing from the George W. Bush administration were unsuccessful.
---