Obama's new foreign-policy and security team: Could Colin Powell be on it?
With President Obama likely to begin his second term with a sharp domestic focus, he'll need a trusted foreign-policy and security team to handle sensitive, and pressing, global challenges.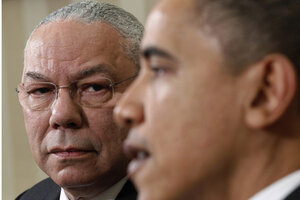 Jim Young/Reuters/File
Barack Obama's reelection was barely sealed before some international voices began trumpeting how the president's victory would mean a renewed American focus on foreign-policy issues that have languished during the campaign.
President Obama could now revive the search for a solution to the Israeli-Palestinian conflict, international Middle East envoy Tony Blair said. The United States will be bolder now in pressing for a resolution of Syria's deadly and dangerous civil war, some US allies, including Turkish officials, predicted.
Have these foreign friends heard of the "fiscal cliff"?
Obama will no doubt be looking broadly to bolster his legacy, and that will include his stewardship of America's role in the world. But after an election in which – according to exit polls – foreign policy barely registered as a priority and a campaign in which Obama spoke frequently of a need for "nation-building here at home," it seems likely that domestic issues such as America's fiscal health, job creation, taxation, and even immigration reform will dominate the president's attention.
"The president laid out his agenda in his victory speech, when he talked about priorities like continuing the economic recovery, avoiding the fiscal cliff, and getting people back to work; so he made it clear he'll be investing his political capital in those kinds of domestic battles," says Mark Siegel, a former deputy assistant to the president in the Carter White House who is now a partner at Locke Lord Strategies in Washington.
---