Google exec to visit North Korea: why Obama administration isn't happy
Former US diplomat Bill Richardson is planning to take a Google executive to North Korea. The State Department has said the visit is unhelpful. The concern is about timing, it seems.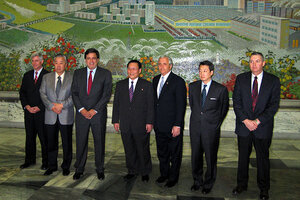 Foster Klug/AP/File
Describing his upcoming trip to North Korea as a "private humanitarian visit," former New Mexico Gov. Bill Richardson says he will proceed with his plans – despite a State Department preference that he not.
Mr. Richardson plans to visit the troublesome pariah state with Google executive chairman Eric Schmidt, but State Department spokeswoman Victoria Nuland said Thursday that the US considers this an inopportune moment for Richardson to make one of his signature North Korea forays.
"We don't think the timing of this [trip] is particularly helpful," Ms. Nuland told reporters, before adding that, on the other hand, "they are private citizens, and they are making their own decisions."
Why not "helpful"? The US is always wary of any action that might be construed as rewarding the North for bad behavior. In that vein, a high profile trip right now by a prominent former US diplomat – Richardson also served as the US ambassador to the United Nations – might seem uncomfortably close to Pyongyang's successful launch of a long-range missile last month.
---