South Korea charges North building missile that could reach US
South Korean officials say they have evidence that North Korea is working on an intercontinental ballistic missile that could reach as far as the United States.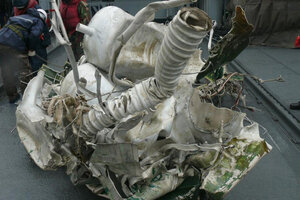 South Korea's Defence Ministry/Reuters
South Korean defense officials say they have evidence showing a recent North Korean missile launch was to test an intercontinental ballistic missile (ICBM).
South Korean navy divers have recovered more than three tons of debris from the first stage of a missile Korean analysts say was fueled by a type of nitric acid developed in the former Soviet Union over 40 years ago for firing missiles with warheads more than 6,000 miles. The rocket, fired from a pad in northwestern North Korea on December 12, managed to put a small satellite into orbit, but officials offer the discovery of nitric acid as evidence of the real reason why North Korea was anxious to test it.
The defense ministry released a photograph of a truck carrying the most conspicuous piece of the debris – the gleaming white casing for the first stage. The word Unha in Korean lettering, the name of the rocket, was clearly visible.as it was in North Korean pictures of the rocket before the launch.
"Definitely their main purpose is to have the capability of reaching the US west coast," says Kim Tae-woo, former president of the Korea Institute for National Unification. "North Korea this time proved the capability of their ICBM."
The evidence of the rocket's mission as a test of an ICBM, according to the defense ministry, was that the main piece of the wreckage was a container for "red
fuming nitric acid" that's not ordinarily used in missiles for launching satellites.
A member of the team that examined the rocket was quoted by Yonhap, the South Korean news agency, as saying they had found the rocket "was intended for testing ICBM technology rather than developing a space launch vehicle." He said the team based this conclusion on the fact that "red fuming nitric acid" was used "as an oxidizer" and could "be stored for a long time at normal temperature."
---