High court slashes Exxon Valdez oil spill damages
The ruling, a victory for Exxon, reduced the $2.5 billion punitive damages to about $500 million.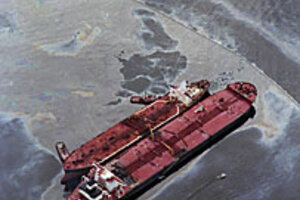 Rob Stapleton/AP/File
The US Supreme Court has struck down a $2.5 billion punitive damages award against oil giant Exxon for its role in the 1989 Exxon Valdez oil spill in Alaska.
The high court said the award should be reduced to the amount of compensatory damages in the case – $507.5 million.
Until Wednesday's announcement, the $2.5 billion award was the largest punitive damages award ever upheld by the US courts. But the Supreme Court ruled 5 to 3 that the punishment was excessive.
Writing for the majority, Justice David Souter said punitive damages could be awarded under maritime law, but the verdict against Exxon "under the circumstances of this case" should be limited to an amount equal to the damages already paid by Exxon to compensate victims of the oil spill.
The ruling marked a significant victory for Exxon which has been waging legal battles related to the 1989 oil spill for 19 years. Business groups also praised the opinion as a move by the high court toward reducing the level of uncertainty in punitive damages cases.
"This is good news for companies concerned about reining in excessive punitive damages," said Tom Donohue, president of the US Chamber of Commerce. "For years the Chamber has argued that punitive damages are too unpredictable and unfair, and today the court agreed."
---