Skeptics dominate hearing on Guantanamo detainees in Illinois
Federal and state officials faced hard questions and some jeers at a public hearing on the proposed transfer of Guantanamo detainees to a prison in northwest Illinois.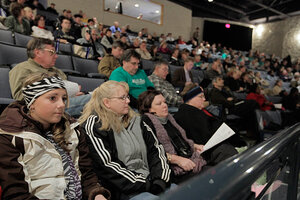 M. Spencer Green/AP
Federal and state officials faced a vociferous public and skeptical state legislators here Tuesday at a public hearing on the proposal to transfer Guantánamo Bay detainees to the Thompson Correctional Center in northwest Illinois.
Three issues dominated the debate: whether or not the state will lose money in selling the correctional center to the federal government, whether giving up an underused facility was wise given the overcrowding in the state's prisons, and finally, whether the safety of Illinois residents is at stake in housing terror suspects in their backyards.
"We're talking about bringing terrorists to Illinois," said state Sen. Bill Brady (R). He was one of several who chastised state officials such as Illinois Department of Corrections Director Michael P. Randle with "doubletalk" in suggesting the state prison was at average capacity while at the same time endorsing an early release program for 200 prisoners to shore up bed space.
"Our enemy is the terrorists and we're detaining their troops. By concentrating [100 to 150 detainees] in one location, we're increasing the risk," said Mr. Brady.
---
Follow Stories Like This
Get the Monitor stories you care about delivered to your inbox.